FunLux 16CH 720p sPOE Complete Security System Choose 12 or 16 HD IP Cameras
Rating:
(

1

product review )
Our friendly staff is here to help!
Why Buy From ZmodoDirect ?
Communication: We're real people you can call and talk to!

Trust: We're leaders in the Home Surveilance Business.

Privacy: We hate Spam, and so won't sell your info.

Secure: Your orders are processed on a secure server w/ SSL encryption.
---
Product Description
16CH HD sPoE NVR System with Option of 12 or 16 IP Cameras
View your world in stunning high definition with amazing 720p picture quality day or night - this easy-to-install NVR security system is ideal for your business or home. Installation is simple, with a single sPoE / Ethernet cable providing video and power to each camera. This kit records more, saves more, and is compatible with more cameras, but still affordable and easy to use.
Compatibility Notice
This NVR is compatible with Zmodo IP cameras that use sPoE ports for power and data transmission over sPoE cables. Zmodo IP cameras that do not use sPoE type power and data transmission can be linked with this NVR by connecting Zmodo IP cameras to the same router that the NVR is connected to. This NVR is not compatible with non-Zmodo cameras.
720p High Resolution
This NVR records images at 1280X720 effective pixel size, which is nearly three times higher than the standard definition and double the detail of a 960H system. When paired with 720p IP cameras, this unit will bring you recording in stunning HD. The picture quality is much sharper and clearer than standard analog resolution.
Remote Access Setup in Minutes
In just 3 steps you can remotely access images on a smartphone. Simply download the free app, scan the NVR's QR code, and start monitoring your property in 720p HD.
Access the System from Anywhere
You can now access your NVR system from anywhere in the world using a range of devices.
Receive Alerts Any Time
To ensure you know what's happening at all times, the NVR can send you email alerts wherever you are, with an image of any activity included. You can also enable push alerts in the Zsight App. If there is motion detected or video is lost you will be notified instantly.
There's More You can Do with Our Free Zsight App.
Any interesting, pleasant moments happened under the camera watching, you can share it by adding your friends's Zsight account into your sharing management. Want to stop sharing? It's also available and up to you.
View on an HDMI Monitor
With an HDMI cable (not included), the HDMI port can generate high definition 1080p video to TVs, including LCD, LED TVs, or monitors. The NVR also has a VGA connection for viewing on your LCD monitor or compatible TV with PC (VGA) input (VGA cable not included).
Record Longer with Intelligent Recording
You no longer have to choose between continuous or motion recording. This NVR includes a normal recording mode and a new intelligent recording mode. The new intelligent recording mode manages disc space by detecting motion events and only using the necessary space needed for recording.
Camera Features
True Day & Night

The cameras utilize an advanced IR Cut Filter for accurate, vibrant colors. A night vision mode will capture clear, illuminated footage in up to 65 feet of darkness.

Wide Angle Coverage

Capturing 81° diagonal field of view, the 2.8mm wide-angle lens expands your recording coverage without compromising quality.

Weatherproof Cameras

If installing outside, please install the cameras in a sheltered location and seal all cable ends in a conduit box.

Versatile Mounting Options

The versatile 3-axis mounting brackets allow each bullet IP camera to be mounted to either vertical walls or horizontal ceilings.
What is Included in 8 Camera Kit (Make Selection above)
1) 16 Channel Security NVR
1) 2TB Hard Drive Pre-installed
12) ZP-IBH15-S1 720p Bullet IP Network Camera
1) 19V 6A Power Adapter
4) 15M(50ft) Camera Cables
8) 25M(80ft) Camera Cables
1) USB Mouse
1) Quick User Guide
What is Included in 16 Camera Kit (Make Selection above)
1) 16 Channel Security NVR
1) 1TB Hard Drive Pre-installed (or 2TB if upgrade selected)
16) ZP-IBH15-S1 720p Bullet IP Network Camera
4) 15M(50ft) Camera Cables
12) 25M(80ft) Camera Cables
1) Power Supply for Security NVR
1) USB Mouse

1) Quick User Guide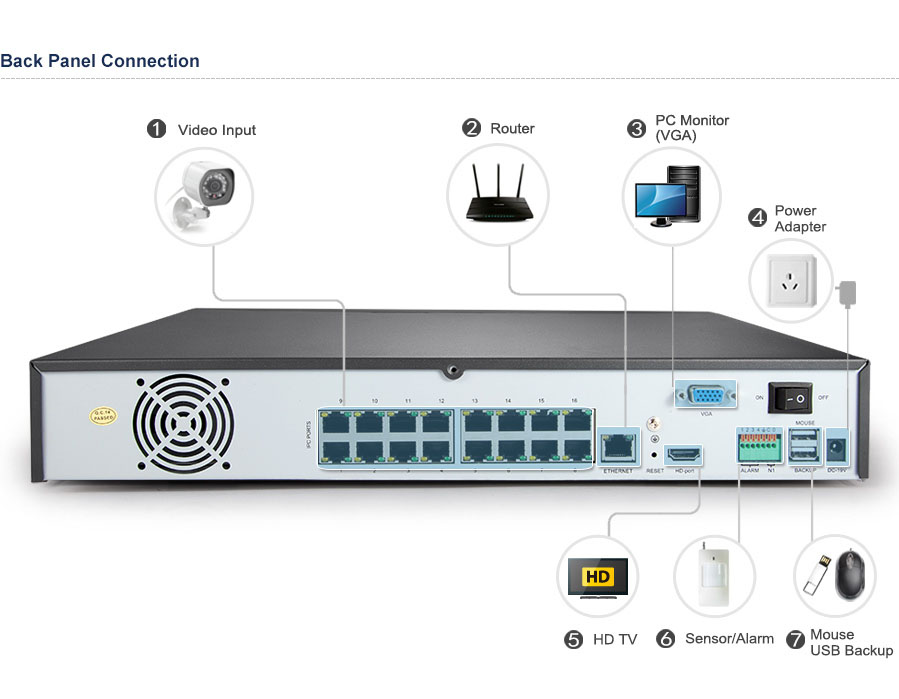 Video Input/ Output
IP video input
16 channel IP camera inputs
VGA output
1 channel
HDMI output
1 channel
Recording resolution
720P
Compression
H.264
Record rate
400fps
Multi screen display
1024×768@60Hz, 1280×1024@60Hz, 1920×1080@60Hz, 1280×720@60Hz, 1366×768@60Hz
Record Mode
Normal record/Intelligent record/Motione dectection/External Alarm
Playback
Fast forward / Rewind / Slow Play
Hard Disk Drive
Interface type
3Ch-SATA•__3Ch 3.5 inch
Capacity
Up to 4TB/ each HDD
External Interface
Network interface
1 RJ45 10M/ 1000M self-adaption & 16 independent 10/ 100 Mbps ethernet interfaces
USB interface
2 USB 2.0 interfaces
Alarm inputs/ output
4 channel sensor inputs / 1 channel alarm output
General
Application support
Remote configuration, video browse, local recording, local and remote playback
Motion detection
Yes
Protocol support
TCP/IP, UDP, DNS/ DDNS, SMTP, UPNP, DHCP, HTTP, P2P
Alarm
Support remote notification
Operating system
Linux based
Smart phone
iOS 6 up, Android 2.3 up
Power supply
DC19V, 4A power adapter included
sPoE ports
16CH
Power consumption
<77W (Without hard disks)
Operating temperature
0 °C to 40 °C
Dimensions
399.8(15.74) × 309(12.17) × 57.8(2.28)
Weight
1.49lbs (Without hard disks)
Language
11 languages
ZP-IBH15-S1

Camera
Image sensor
720p Color Sensor
Min. illumination
0.1Lux (IR LED On) / F 1.2
Shutter speed
Auto
Lens
2.8mm
Angle of view (diagonal)
81 degree
Day & night
Electronic (IR-CUT filter with auto switch)
Compression Standard
Video compression
H.264
Bit rate
16Kbps~2Mbps
Dual stream
Yes
Image
Image resolution
720P (1280*720) , VGA (640*480) , QVGA (320*240)
Frame rate
25fps
White balance
Auto
Backlight balance
Auto
Image setting
Brightness, contrast, saturation
Network
Alarm trigger
Intelligent motion detection
Alarm action
E-mail alarm, video record
Network protocols
TCP /IP, UDP, DNS / DDNS, SMTP, UPNP, DHCP, HTTP, and P2P
ONVIF
ONVIF Ver.2.0
Supported OS
Microsoft XP/Vista/Win7/Win8,Internet Explorer 7.0/8.0/9.0/10.0
Wireless
Not Supported
Security
User authentication, software encryption
Interface
On-board storage
Not supported
Communication interface
RJ45 10 / 100M self-adaptive
General
User management
Multi-lever user management, support up to 16 users
Weather proof
IP65
WDR
Not supported
Operating temperature
−10 °C to 50 °C
Color / Material
White /Aluminum
Powered by
Power over ethernet
Power consumption
2W~4W
Dimension
56 × 54 × 85mm (2.2" × 2.1" × 3.4")
IR distance
Night visibility up to 20m
Weight
0.794lbs
PC Monitor
Windows
XP/Vista/Win7/Win8
IE
7.0/8.0/9.0/10.0
Mobile Monitor
APP
Zsight
Android support
2.3 up
iOS support
6 up
---
Warranty Information
1 Year Warranty
---
Find Similar Products by Category
---
write a review
Product Reviews
Glad I got these to replace my old analog kit

Posted by Jerrod on 10th Apr 2016

I had an old analog kit setup at our local store that was about 4-5 years old. I wanted something a little more up to date, and that I could watch employees from my phone with. I almost bought one of the newer analog kits, but was told I should try an IP kit since they actually record at a higher resolution, and are much better overall. These are light years better than the analog kits I had, and I'm sure better than the current analog kits. I literally couldn't believe how quick I was online with these once the cables were run. I went with 16 cameras, and am glad I did....

---
---
Customers Who Viewed This Product Also Viewed